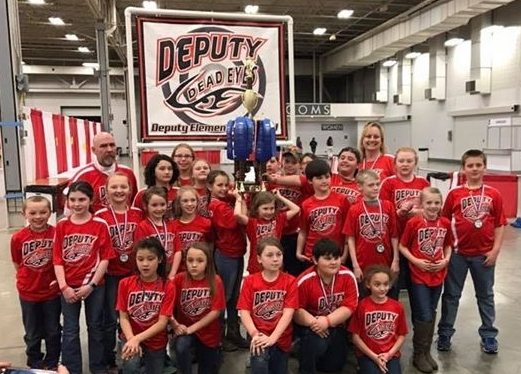 On Saturday, March 11, 2017, the Deputy Deadeyes Archery team competed at the NASP State Tournament and brought home a STATE TITLE! As a team, the Deadeyes shot 103 bullseyes for a combined team score of 3,110 points to finish first among 32 elementary teams.
Deputy Elementary fifth graders Cole Bechman and Brooklynn Hazelwood each placed fifth overall in elementary boys and girls classes respectively. Cole shot a 273 with 11 bullseyes and finished with a state ranking of 3rd out of 167 fifth grade boys in the state. Brooklynn shot a 273 with 10 bullseyes and finished with a state ranking of 4th out of 160 fifth grade girls in the state.
Madison also sent teams from Rykers' Ridge Elementary, Madison Junior High School, and Madison Consolidated High School. Rykers' Ridge as a team scored a total of 2,859 points with 61 bullseyes and finished the tournament at 13th of 32 teams.
The Madison Junior High School team scored a total of 3,179 points with 104 bullseyes and finished with a rank of 11th out of 31 middle school teams. Sixth grader (and former Deadeye) Quinton Huff scored a 279 with 15 bullseyes to earn a rank of 2nd out of 134 sixth grade boys in the state.
The team from MCHS combined for a score of 3,300 points with 154 bullseyes and finished 11th of 31 high school teams. Sophomore James Weir contributed with a score of 294, only six short of a perfect score of 300. He racked up 24 bullseyes which earned him a ranking of 1st out of 111 sophomore boys in the state, 2nd out of 324 high school boys, and 3rd out of 1,074 boys competing state-wide.
Deputy Deadeye team members pictured above (left to right): front row Ruby Willoughby, Bridgett Boles, Michelle Hatton, Sean Neff, and Laura Boles. Second row: Tracent Chatham, Addie Stitsworth, Allison Palmer, Sydney Huff, Autumn Ross, Brooklyn Hazelwood, Maysha Wells, Nicolas Smith, Layne Laufer, Emma Laufer, and Creedence Helton. Third row: Coach Chris Calhoun, Emma Richey, Sydney Amburgey, Ryanne Rose, Ryan Stoner, Cole Bechman, Jacob Smith, Kye Johnson, Coach Jennifer Amburgey, and Chloe Graham.
Congratulations to all of the teams and individuals who participated!
Full results from the Indiana NASP State Tournament can be found through this
link
.